How Miles Can Make You a Better Underwater Photographer
Travel with a P.A.D.I. Master Instructor, season digital creative and award winning underwater photographer. From understanding and setting up your underwater photography equipment to learning the latest post production techniques using  Adobe Lightroom, Photoshop & Google Nik Collection; Miles will create a tailored experience that meets the needs of  your group.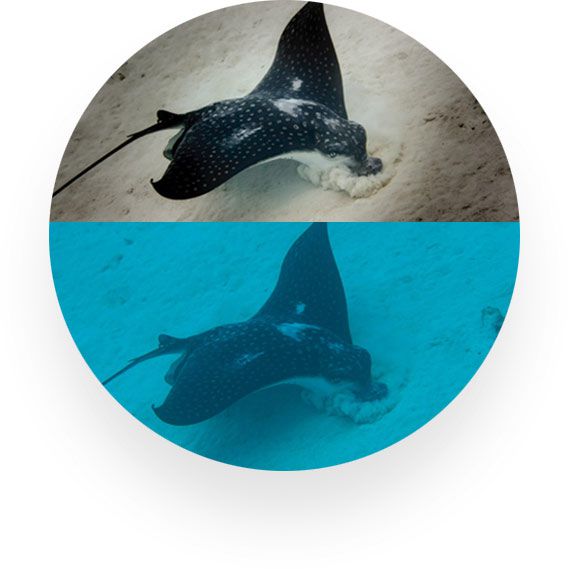 Miles Nurse
A PADI Master Instructor, Digital Design Educator and Marine Conservationist; I have travelled, lived and explored many corners of our globe, both above and below the water. Underwater photography & digital design has been a passion of mine for almost 20 years.
To date I have completed more than 6500 dives and visited more than 500 cities in 30 countries. I have a deep understanding, respect and admiration for the splendours of underwater world.
Underwater Photography Workshops
Start Learning?
Get more details on upcoming trips & workshops
Underwater Photography Equipment
Tools of the trade; A list of macro, wide angle and underwater photography equipment I used while scuba diving.
PHOTOGRAPHY EQUIPMENT
Canon EOS-1D X Mark II DSLR Camera
Canon 300mm f/2.8 L IS USM II
Canon EF 24-70mm f/2.8L II USM Zoom Lens
Canon EF 70-200mm f/2.8 L IS II
Canon EF 100mm f/2.8 USM Macro Lens
Canon MPE
Canon EF 16-35mm f/2.8 L II USM
Canon EF 8-15mm f4 L
Canon 1.4x  2x Teleconverters
Canon Speedlite 600EX-RT
Panasonic LX100  Camera 
UNDERWATER PHOTOGRAPHY
Nauticam 1DX Mark II : Wide & Macro Ports
Sea & Sea YS-D2 DS-TTL Strobes
Nauticam SMC Multiplier
Nauticam SMC Super Macro Converter
Light & Motion Sola 800 Focus Light
Nauticam viewfinder & carbon fiber float arms
Keldan Luna 8 Video Lights
Nautical LX100 housing
Atomic Regulators & Scubapro Masks & Fins
Halcyon BCD & Bare SB Drysuits
Ultralight Tray, Handle, Arms & Strobe Adaptor 
Got Questions?
Need a Professional Dive & Photo Guide!