Underwater Photography & Digital Imaging Services
Underwater Photography Expeditions
Miles Below showcases underwater photography created to inspire people to actively participate in the evolution and protection of our marine ecosystems. Together we can minimize the current environmental impacts affecting our marine ecosystems through exploration and education.
Buy a Photo, Fund an Expedition & Support Marine Conservation
A Unique Gift
Premium Stock Underwater Photography & Fine Art Prints
Digital Imaging Workshops for Underwater Photographers
Take Better Photos, Have Better Trips!
Travel with a dive professional, learn underwater photography techniques or take a photo editing workshop. You can learn the latest post production techniques with Adobe Lightroom, Photoshop & Google Nik Collection. Create and publish digital photo galleries to share on the web or iPad.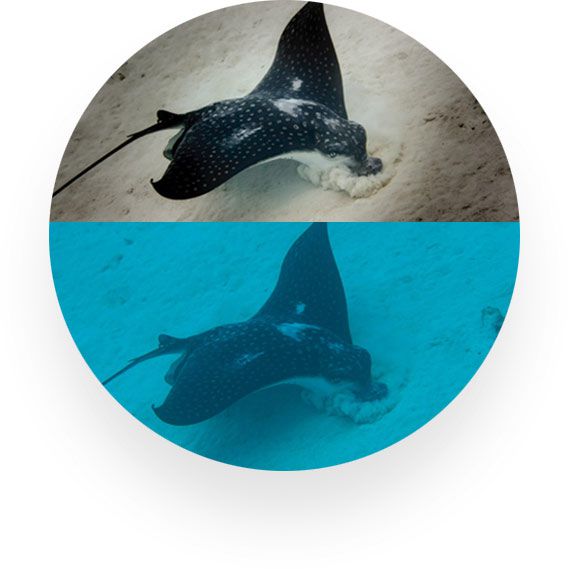 Learn to Make Better Photos in 5 Min!
Get a Professional Dive & Photo Guide!
Expedition Leader & Digital Educator
Miles Nurse
A PADI Master Instructor, Digital Design Educator and Marine Conservationist; I have travelled, lived and explored many corners of our globe, both above and below the water. Underwater photography & digital design has been a passion of mine for almost 20 years.
To date I have completed more than 6500 dives and visited more than 500 cities in 30 countries. I have a deep understanding, respect and admiration for the splendours of underwater world.
Underwater Photography Equipment
Tools of the trade; A list of macro, wide angle and underwater photography equipment I used while scuba diving.
PHOTOGRAPHY EQUIPMENT
Canon EOS-1D X Mark II DSLR Camera
Canon 300mm f/2.8 L IS USM II
Canon EF 24-70mm f/2.8L II USM Zoom Lens
Canon EF 70-200mm f/2.8 L IS II
Canon EF 100mm f/2.8 USM Macro Lens
Canon MPE
Canon EF 16-35mm f/2.8 L II USM
Canon EF 8-15mm f4 L
Canon 1.4x  2x Teleconverters
Canon Speedlite 600EX-RT
Panasonic LX100  Camera 
UNDERWATER PHOTOGRAPHY
Nauticam 1DX Mark II : Wide & Macro Ports
Sea & Sea YS-D2 DS-TTL Strobes
Nauticam SMC Multiplier
Nauticam SMC Super Macro Converter
Light & Motion Sola 800 Focus Light
Nauticam viewfinder & carbon fiber float arms
Keldan Luna 8 Video Lights
Nautical LX100 housing
Atomic Regulators & Scubapro Masks & Fins
Halcyon BCD & Bare SB Drysuits
Ultralight Tray, Handle, Arms & Strobe Adaptor 
Got Questions?
Need a Professional Dive & Photo Guide!