GODS POCKET, BC CANADA
Gods Pocket Resort is a slice of paradise in the beautiful Emerald Sea and is the #1 cold water scuba diving and underwater photography destination in the world
THE BEAUTIFUL EMERALD SEA
Underwater photography and scuba diving in British Columbia – Yes, it is worth putting on a drysuit for!
Both above and below the surface, the scenery, activities and attractions here in Beautiful British Columbia are world-class! Rodale's Scuba Diver Reader Choice Awards has labelled British Columbia as having some of the Best Fish Life, Best Big Animals to Dive With, Best Dive Destination and one of the Healthiest Marine Environments in the world. With hundreds of dive sites, beautiful emerald green waters, and an incredible variety of marine animal life it's not hard to understand why it is the number one cold diving destination in the world.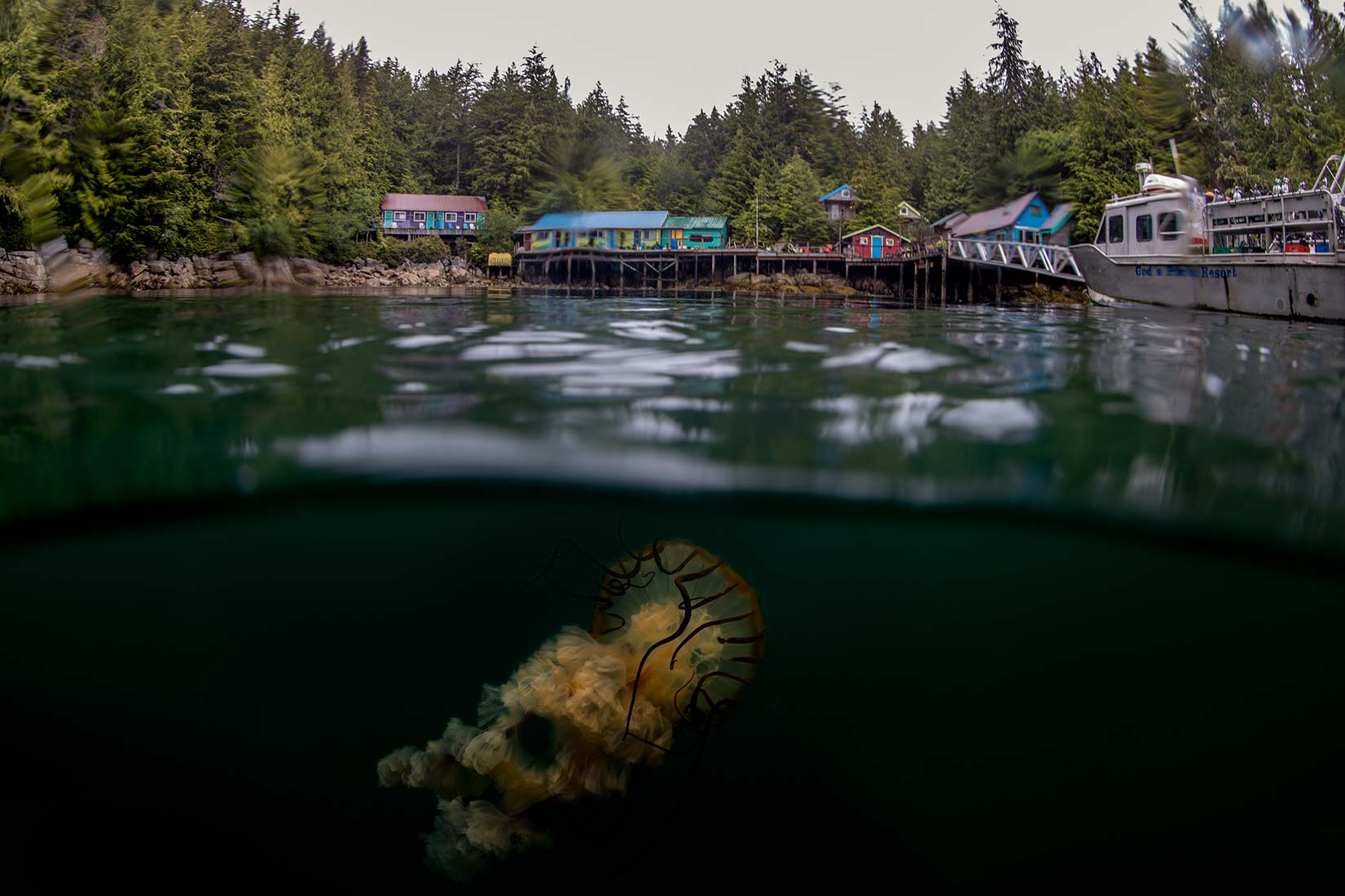 GODS POCKET RESORT
Jacques Cousteau rated God's Pocket Provincial Park the best cold water SCUBA dive spot in the world due to its phenomenal marine diversity. Accessible only by boat, it is a secluded wilderness spot surrounded by forested islands and the waterways of the Queen Charlotte Strait. "God's Pocket" references both a Marine Provincial Park and a "pocket-shaped" protective cove on Hurst Island where the Gods Pocket Resort is located.
They plan 3 dives per day beginning the day following your arrival at God's Pocket. The boat leaves the dock twice a day … one departure to include 2 dives, the other departure for one dive. The resort is about 5 minutes from Browning Pass and the world famous Browning Wall. Other dive sites they frequent (weather and currents depending) include Barry Islet, Fantasea Island, Nakwakto Rapids, Hunt Rock and various sites in Bates Pass. They regularly scout new sites so their choice of dive spots is extensive, which means that no matter what the wind and tides are doing there is always a site that is suitable for the conditions.
God's Pocket Resort is known for its legendary cold water diving and is a popular underwater photography destination. National Geographic filmed some of its Planet Earth sequences in this stunning part of the world. Other than the resort, Hurst Island is uninhabited and offers some spectacular hikes and beautiful vistas. If paddling is more to your liking than hiking, God's Pocket has two kayaks readily available for paddling tours around the island. In fact, God's Pocket Resort caters specifically to kayakers in July when plankton blooms tend to be at their peak. A visit to God's Pocket Resort provides not only spectacular cold water diving, but also an opportunity for kayaking, hiking, eagle spotting, and wildlife viewing, including whale watching.
Underwater visibility can vary with the best visibility tends to be in April and October – when the weather often unpredictable. It ranges from 5- 70 feet with 30′ being the norm. The water temperature is typically in the 42 to 50-degree range.
It is important to note that there is no cell reception or internet connection at the resort but there is a phone you can use a $1/per min cost.
THE DIVING
When conditions are good, the diving is unmatched. It is arguably the greatest cold water destination in the world and it is worth putting your drysuit on for. You can expect to see oceans of plumose, anemones, bright yellow sulphur sponges, colonies of red sea strawberries, white metridium, and towering finger sponges. Brooding anemones, wolf eels, Giant Pacific octopus, Puget Sound king crabs, sea lions, sea pens, stubby squid, nudibranchs and an abundance of fish; schools of rockfish. benthic tiger, copper, quillback, Pacific Cod, ratfish, bay gobies
DIVE SITES
Hunt Rock, Nakwakto Rapids, Seven Tree, Browning Wall, Butter Tart Reef, Gods Pocket Bay, Rock of Life, Castle Gap, Fantasea Island, and Bates Pass and many more