KAUAI, HAWAII
The Garden Isle & Most Beautiful Hawaiian Island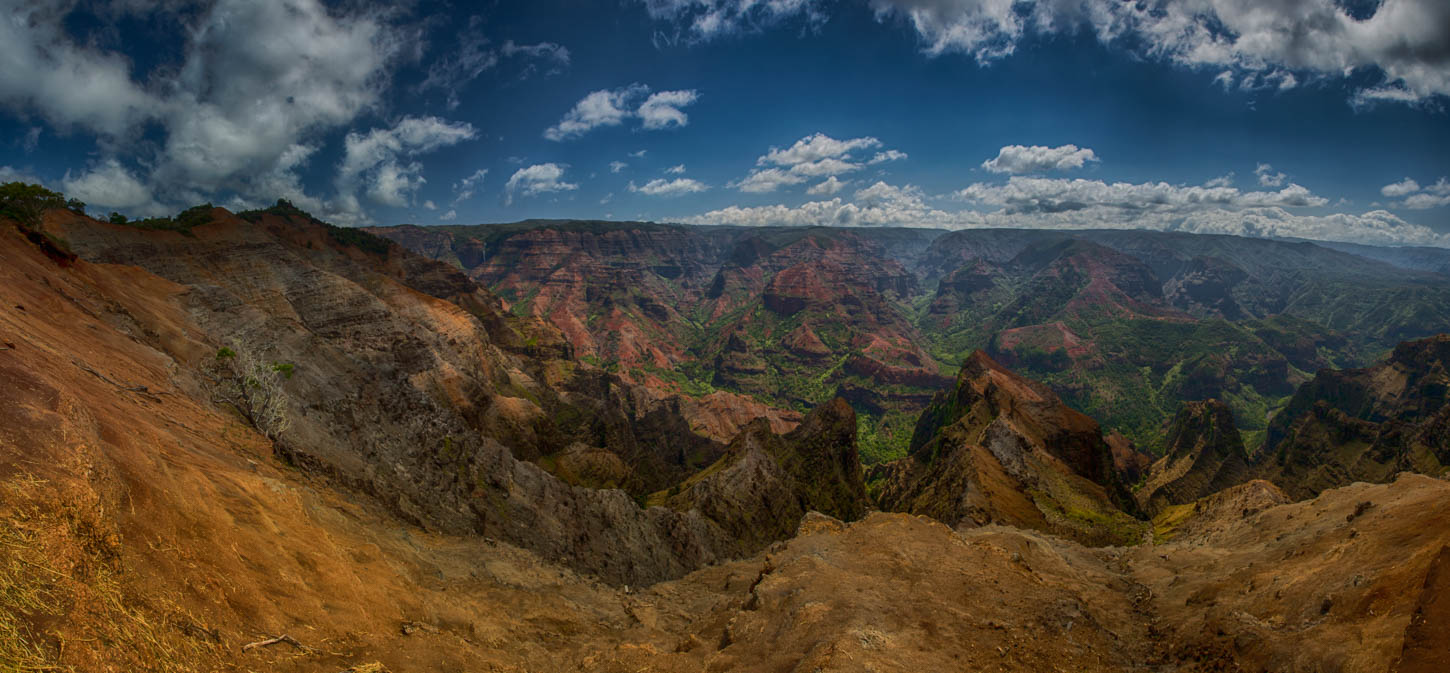 "The Garden Isle" – The Kauai Travel Guide
Kauai is my favourite Hawaiian island. It has fewer tourists, is less populated and has a charm that is not found in the other islands. The Big Island is still touted as the best for scuba diving but for overall nature, geography, food and culture – they don't come close to touching the garden isle.
Here are some quick tips on where to stay.
North – Hanalei
Does get more rain but it is the gateway to the Na Pali coast. It is lush and houses some of the most beautiful beaches and beach house rentals on the island. Its rustic location provides a delicate balance of amenities and culture, and the views are absent of the usual strips of time-share condos.
East – Kapa'a
Lots of great little shops, great food with a tolerable mix of culture and tourist traps. It is generally one of the more economical places to stay on the island to stay. Best coffee and wraps on the island.
South – Poipu & Koloa
Poipu is where most of the super resorts are located on the island. There are several breathtaking beaches and manicured hotels. It is worth visiting the Maha'Ulepu Trail, grabbing a drink at the Grand Hyatt afterwards. It is generally the area of the island that has the most sun, but beaches can have powerful crashing waves (Poipu – literally means crashing waves in Hawaiian)
West – Hanapepe, Waimea, Port Allen
The climate out west gets arid and hot. There are many economical places to stay out west. It feels remote, but you can find many locals like to try the chances of catching Ahi Tuna as the sunsets into the background of this beautiful garden isle. It is the gateway to Waimea Canyon and also the site of the famous Hanapepe Art Night.
TOP THINGS TO DO IN KAUAI
#1 NaPali Coast
The NUMBER ONE thing to do is the Na Pali Coast. Na Pali – the Cliffs in Hawaiian – is one of the most beautiful and remote areas on Kaua'i. There are many options for taking in this beautiful coastline and given its awesomeness, and I wanted to experience it from every viewpoint. There are three ways to do this.
Hike:
Taking the Kalalau Trail which takes you into a beach about 2miles in. This is where many people turn around after enjoying the beach (the waves here are hazardous, so going in the water is not advised). This is a pleasant 4-mile hike and can get you back to Hanalei in time for a late lunch.
From here you will see many people continue west and wonder beyond this point carrying large backpacks to tackle the remaining 9 miles of the Kalalau Trail and camp overnight. The trail and facilities are rugged; some eroded areas are very narrow over cliffs that are hundreds of feet high. To do this, you need to secure a camping permit, which can sell out months in advance.
The fork that takes you south is the start of another trail 2 miles down to the Hanakapiai Falls. I think the biggest mistake people make is they don't realize the Hanakapiai Falls is connected to the Kalalau Trail. I recommend the hike to the falls, but this is often very muddy, and you need to hop over or wander through the creek/river a couple of times. This trail to the falls is more difficult to navigate and takes longer to hike but does not have some of the steep inclines that are found on the first two miles of the Kalalau Trail. Then you can enjoy a swim in the waterfalls and make the return trip back. This is a total of 8 miles and will take most people the better part of the day to complete. Pack a lunch, bring your bathing suit and bring plenty of water. The hike to the waterfalls is well worth it!
The Kauai Explorer provides excellent information on this hike and many more
Helicopter:
I know what you're thinking but do it. This book up fast and if you do it, make sure you do one with the helicopter doors off. A couple of tips: Make sure you don't wear any loose items and bring something warm, even a hoodie under a windbreaker should be ok. Also, things happen fast, and the light changes quickly so if you are a photographer I would set your camera to auto – but if you are using an SLR make sure you limit your auto ISO to 800. Also if you are taking photographs, you will want to consider where you sit in the helicopter. The front is a three seater. There is a small seat next to the pilot and one next to the open door. Then two seats in the back – both are open doors. Your seat is determined on your weight, so getting seats is based on weight distribution. If you are going as a foursome and someone is feeling less adventurous, they should take the seat next to the pilot. The photographers should take the back seats for the most unobstructed shots and the person looking for the best view and experience should take the front seat near the open door.
I had an enjoyable experience with Jack Harter Helicopter Tours when I was there. I highly recommend them.
Sunset Cruise:
Most Na Pali sunset cruises launch either from Hanalei or port Allen. They are a nice casual way to travel up the coast and get amazing up close pictures of these beautiful coastlines that were made famous by Jurassic Park. Drinks, dinner and often a whale encounter are apart of the package.
#2 Waimea Canyon
"Waimea Canyon, on Kauai's West Side, is described as "The Grand Canyon of the Pacific." Although not as big or as old as its Arizona cousin, you won't encounter anything like this geological wonder in Hawaii. Stretching 14 miles long, one mile wide and more than 3,600 feet deep, the Waimea Canyon Lookout provides panoramic views of crested buttes, rugged crags and deep valley gorges. The grand inland vistas go on for miles.
The main road, Waimea Canyon Drive, leads you to a lower lookout point and the main Waimea Canyon Overlook, offering views of Kauai's dramatic interior. The road continues into the mountains and ends at Kokee State Park. There are numerous trails to traverse for beginners and seasoned hikers." Source – GoHawaii.com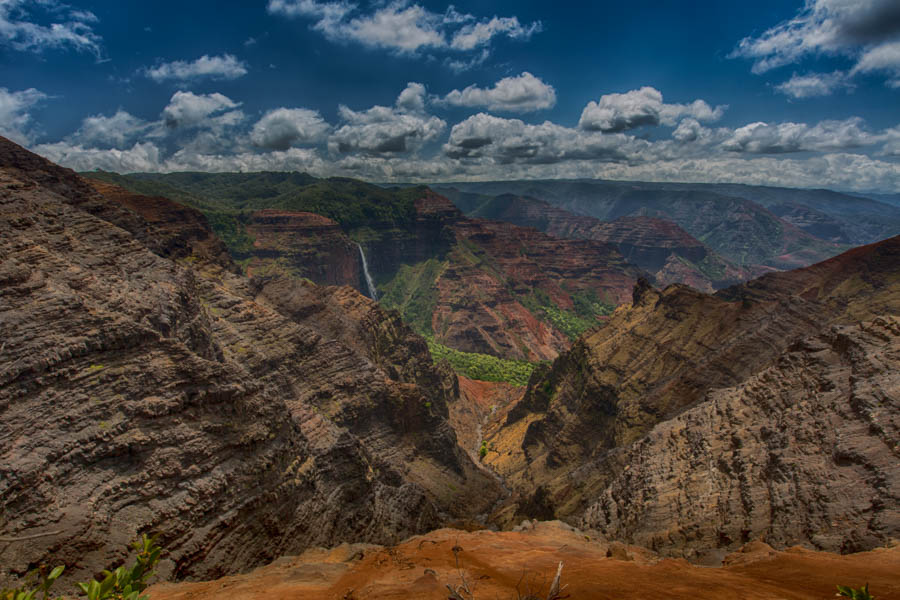 #3 National Tropical Botanical Garden
I have to admit; when I travel, I generally steer clear of things like this. Usually underwhelming, with plants that you can find at a local greenhouse, but this one was different. It was serendipity that led me to this experience. I was driving by and saw what looked like a fairly average looking botanical garden. As I walked through the garden I thought, this looks just like everything else on the island until I came up to the information booth and they mentioned this was simply the meeting place and only designated buses were allowed into the Allerton Gardens. I was intrigued and booked the tour.
"Allerton Garden also known as Lāwaʻi-kai is a botanical garden, created by Robert Allerton and John Gregg Allerton, located on the south shore of Kauai, Hawaii. The garden covers an 80-acre area and is situated beside the Lāwaʻi Bay, in a valley transected by the Lāwaʻi Stream. It is one of the five gardens of the non-profit National Tropical Botanical Garden."What they don't mention is that Robert Allerton, had a lifelong passion for garden design, sculpture, and landscape architecture. There are many beautiful places to visit in this garden, which has been made famous by movies such as Jurrasic Park and Pirates of the Caribbean.
The thing that blew my mind was the fact that everything in the Allerton gardens was designed, and it is a masterpiece, but the designer never got to see it in come to fruition. Robert Allerton never got to see the fruits of his careful planning, visits to Europe as a child and his obsession with what today would be considered biomimicry as he passed away in 1964. It is remarkable to see the design and foresight he had to create this biological masterpiece.
There are many reflection ponds. Care consideration of hydrodynamics shifts you from a surreal to a realistic view of the world.
There mermaid fountain display amazing hydrodynamics and mimics the sounds of blood vessels. People who visit this fountain will find their heart rates and blood pressure lower as they can listen to its tympanic tranquil sounds.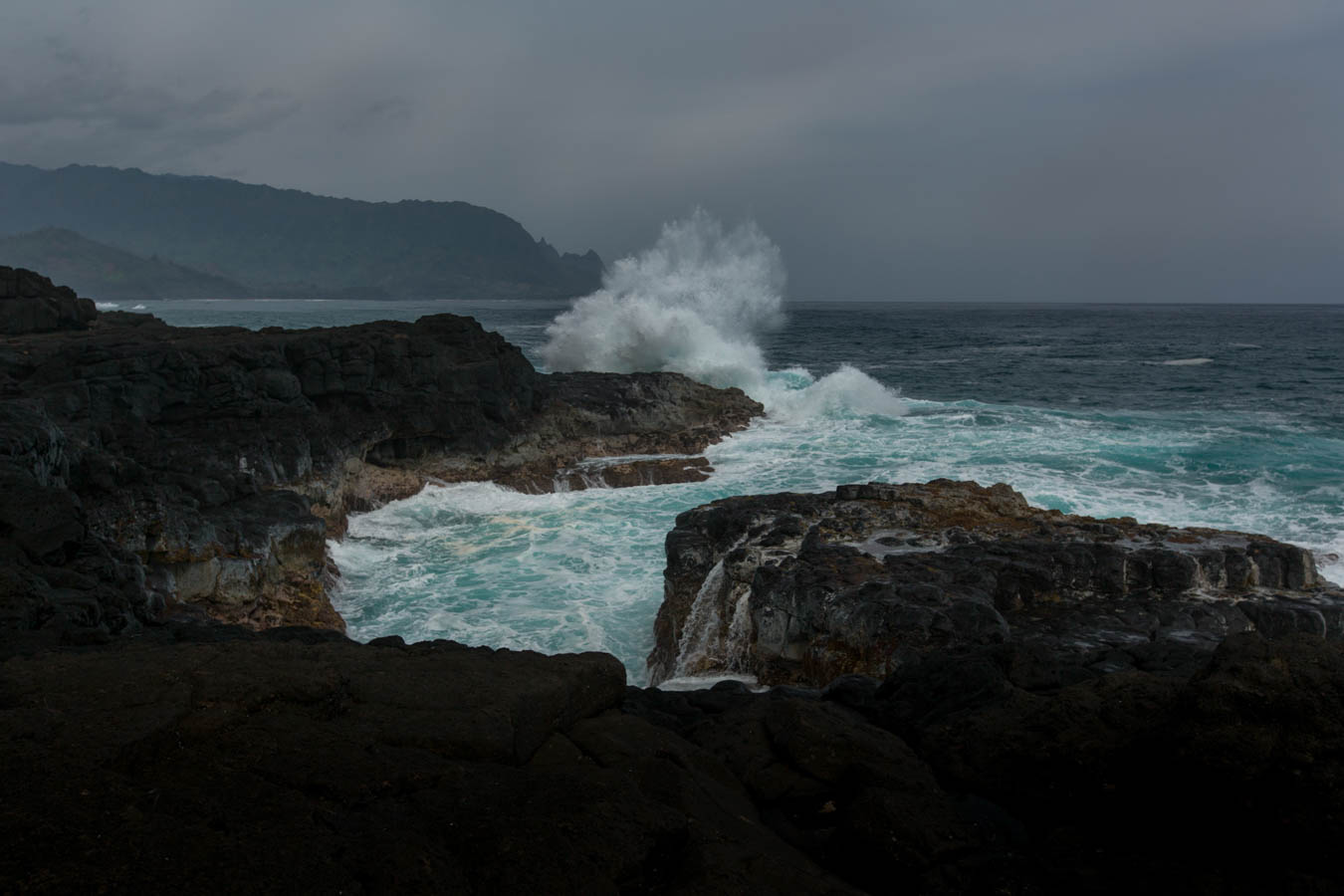 #4 Queens Bath
Queen's Bath is a unique tide pool on the island of Kauaʻi, Hawaii. The pool is a sinkhole surrounded by igneous rock. It is located on the north shore of Kauaʻi near the town of Princeville – Here is a link to the Google Map. The swimming area is accessible via a short trail. During the winter, when wave activity is violent, it is considered dangerous. In small surf—usually in the summer—the water in the pool is calm.
Many locals will frown when you ask them about the Queen's bath because there have been several accidents and deaths at this location. Exercise caution and make sure you there at low tide and understand when the tide is coming back in.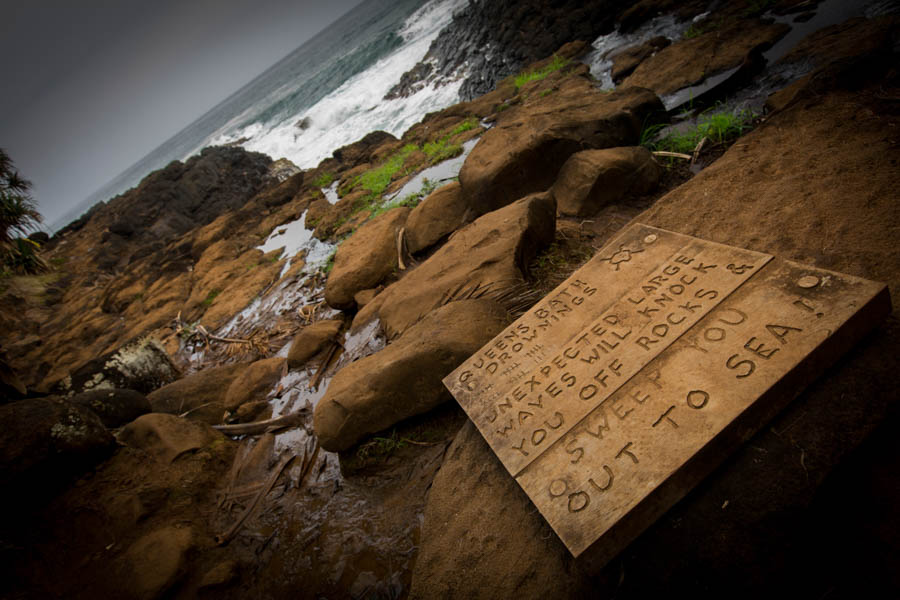 # 5 Hanapepe Friday Night Festival & Art Walk
Make sure you check this out as it only happens one night a week. This quaint, quiet town comes to life with live music, food trucks, souvenir stands, and dozens of art galleries showing off some of Hawaii's & Kauai's best local artists. I would eat a late breakfast and skip lunch. This way, you can truly indulge in everything from pies and ice cream to organic burgers and fresh fish tacos.
#6 Food, Food, Food
I love fish, ahi tuna, fish tacos, and pretty much anything that has Polynesian or Japanese influence; so Kauai is food heaven. Here is a list of the best places to get eat on Kauai.
Best Breakfast
Art Café Hemmingway – Breakfast the way Ernest loved it. Great location near the river, wonderful staff and options.
Best Tacos
Tiki Tacos – Don't get scared away because it's in a strip mall – Go for the GMO free tortilla and add avacado and grilled veggies to your order. The Lamb & Fish is out of this world
Best Casual Lunch / Wraps
 Mermaids Café: –  The Ahi  Nori and the Ahi Cilantro Wrap are delicious. Make sure you give yourself a little time, the staff like to take their time with your order.
Best Coffee Shop
 Small Town Coffee Co. – Bakery with lots of great eats, gluten-free options and the best espresso and cappuccinos in Kauai
Best Food Truck
Kick Shaws – You can find this at the Hanapepe Art Night on Fridays. My favourites are the Rightfully Righteous Pulled Pork Sandwich & the 100% Awesome Burger.
Best Ahi Tuna Poke
Koloa Fish Market – So many poke flavours – Spicy, Korean, Traditional….You will keep going back.
Best Dinner / Ambience:
The Beach House – Has great food and the best ambience on the island.  The portions are quite large so don't be afraid to share
Best Seafood Dinner
Red Salt – Delicious – spent my birthday there in 2014 – It was wonderful, but I would make a window reservation.
Best Dessert
Roy's – Go there for a nightcap and order the Chocolate Souffle (Lava Cake) – Dinner is very good but it lacks character and ambiance.