LEMBEH STRAIT, INDONESIA
World famous for its macro life for good reason. It is simply the best place globally for macro photography!
A MACRO PHOTOGRAPHERS DREAM
Underwater photography in Lembeh – World famous for its macro life, I would argue that Lembeh Straight is simply the best place globally for macro photography! The straight is home to some of the most unique underwater critters found anywhere in the world. The biggest thing I found in Lembeh is many people did not understand it is primarily muck diving before arriving. I was there for two weeks and saw many new guests arrive and the reaction is generally the same on the initial decent; Wide eyes and a general sense is "what the hell did a spend all this money on." Then you descend to about 60 -70' and in my case see a blue ring octopus in the first minute of the dive. Then another, then emperor shrimp…it suddenly all makes sense and your apprehension is replaced with pure delight.
A typical dive site is mostly a mix of black sand and mud with scattered patches of coral clusters, rocks, or anemones. As you move north out of the straight into areas like Bangka you can explore more typical tropical dive sites with a mixture of soft and hard corals – and by typical, I mean fields of vibrant soft corals with a nice combination of common schooling fish and some of the rare critters you find within the strait. The nice thing with muck diving is you are often presented with opportunities to photograph critters with a black sand background or in an environment where it is isolated from other creatures. The sheer abundance of critters, options to travel north into what could only be described as vibrant underwater painting make Lembeh Strait a unique diving experience with few global rivals.
CRITTERS & LEMBEH RESORT
I have been to Lembeh Resort twice and they have been such amazing hosts for two of the best dive trips i've had. I would highly recommend staying here if you are looking for an upscale diving experience, where boats go out three times a day and you can always enjoy the resort amenities between dives. They have a full service spa and the food is fantastic, which offers a delicious new à la carte menu each day I have gotten to know both the existing and previous (now managing Siladen Resort) managing couple. Lembeh resort offers very spacious Traditional Minahasan Cottages are fully detached and located along the front resort gardens, which are directly behind the waterline. Built from wood in the traditional style of the local Minahasan culture, with long covered wooden verandas, these cottages offer guests beautiful sea views as well sunset views over Mount Klabat and other volcanoes. All but one of these cottages include an open bathroom complete with open-air shower as well as a closed shower. Four of these cottages are designed as two separate rooms—living room and bedroom—allowing comfortable accommodation for up to four people.
Many descriptions of Indonesian marine life was provided courtesy of critters@lembehresort.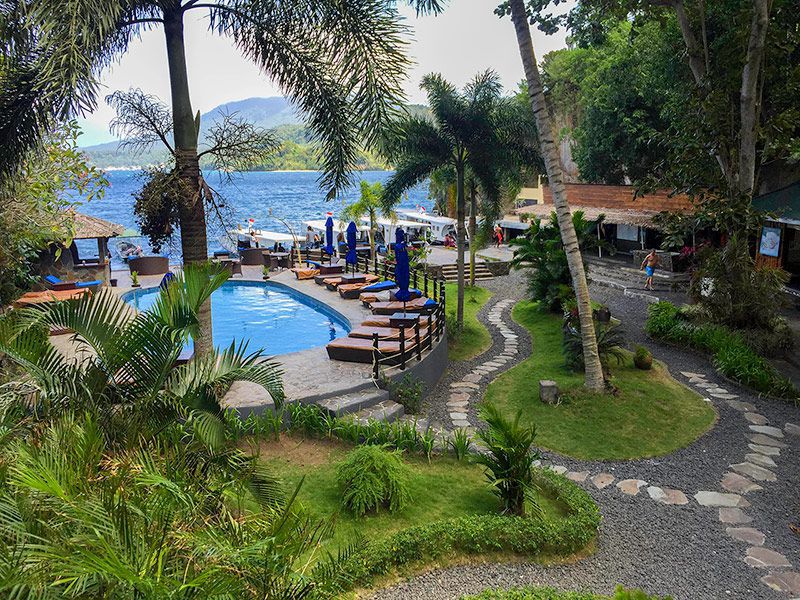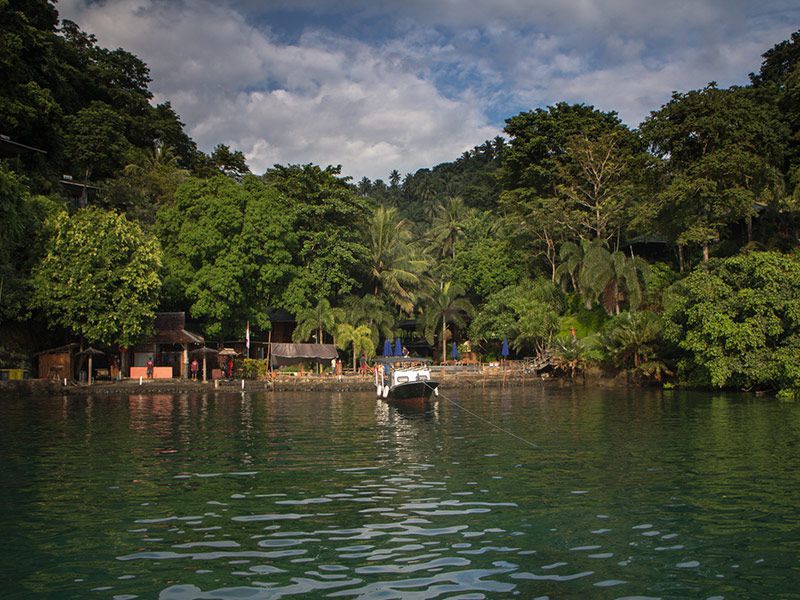 MANADO TO DIVING LEMBEH SULAWESI
Sulawesi is home to some of the most varied and incredible diving in the world. Diving in and around Manado in the Bunaken National Marine Park area means you will be surrounded by marine biodiversity that is the pinnacle of anywhere in the world – with more varieties of coral than anywhere else on the planet.
A short drive from Manado is the Lembeh Strait – the undisputed Champion of all muck diving destinations. This small calm stretch of water is where macro-photographers and critter hunters agree offers the most impressive diving. Along the black sandy floor, you will encounter more bizarre and intriguing marine species than all your previous dive experiences combined.