TOFINO, BRITISH COLUMBIA
My Favourite Place in Canada
Day 1 – Morning – Travelling to Tofino
Take the earliest Ferry ride you can. 6 am if you are up to it! Enjoy the Ferry Ride but remember to make a reservation and you need to be at the ferry terminal between 30 -60 minutes before departure to use your reservation. It is well worth the $15 reservation fee. The Ferry ride is 1.5hrs long followed by a 2.5hr drive to Tofino.
You will arrive in Nanaimo where you should take the highway north to Parksville. Do not take the scenic route take the highway, which allows you at points to drive at 120km per hour. On your way out of Nanaimo, there are lots of grocery stores and a Costco in case you need to stock up on something quickly.
After taking the highway turnoff to head to Port Alberni (on the way to Tofino) after about 20 minutes, you will see Cathedral Cove. Stop and take 30 minutes to enjoy this 1000-year-old tree forest.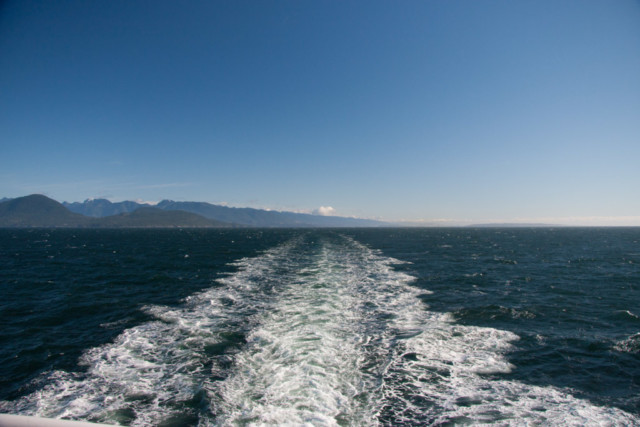 You will travel the highway for about another 40 minutes and just before Port Alberni you will see Coombs Country Candy – stop and get some ice cream of candy
From here you will head into Port Alberni where there are a few more grocery stores and your last place to get fuel before heading to Tofino, which is another 1.25hrs away.
On the way you will pass Kennedy Lake – It is about 50km from Tofino. Many people will spend the day here if it is windy or cooler in Tofino. There are many times where Tofino can be foggy, and this fog settles as you hit the Tofino / Ucluelet Junction. Also, many people who surf or have wetsuits will spend a couple of hours here on the return trip to rinse their gear in the fresh water. I would continue, as you will not know the weather in Tofino until you get there. It changes hourly.
Travel the winding road to Tofino / Ucluelet Junction – The last 17km before the junction is 30 -50km zone, and are very windy so be careful on this stretch.
Turn right at the junction and head to Tofino and stop at Long Beach one of the longest and most beautiful beaches in Canada – Long Beach is a national park and requires a park permit so make sure you pay for one as rangers patrol this beach often. Tofino and most of the hotels are outside the national park, so a permit is not required for them. Spend an hour here enjoying one of the best stretches of beach in the world.
From here, continue to your hotel destination and check-in.
Arriving In Tofino
Accommodation:
Mackenzie Beach:
Has the most affordable accommodation and generally where families hang out because the water is more protected and it is not a surfing beach– There is a campsite: Bella Pacifica. Also Ocean Village Resort, which is probably, your best bet for affordable oceanfront accommodation.
Chesterman Beach:
Generally beginner (to advanced depending on the wind) surfing area. There are lots of bed and breakfasts located here along with house rentals.
Cox Bay
A beautiful bay that often has medium to large surf. It is usually where a lot of locals prefer to do their surfing due to the conditions. It is also less busy, and generally, the resorts here are more expensive than other places in Tofino.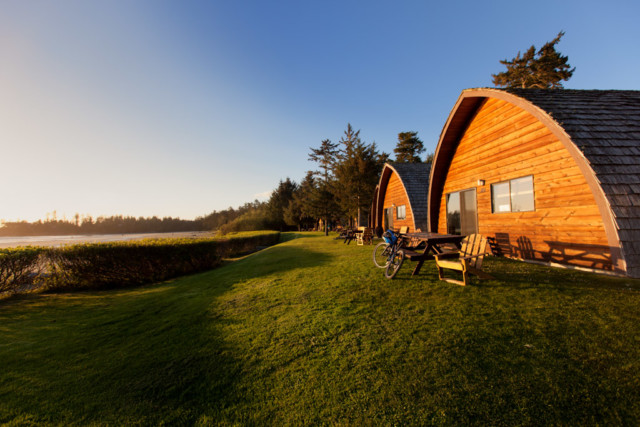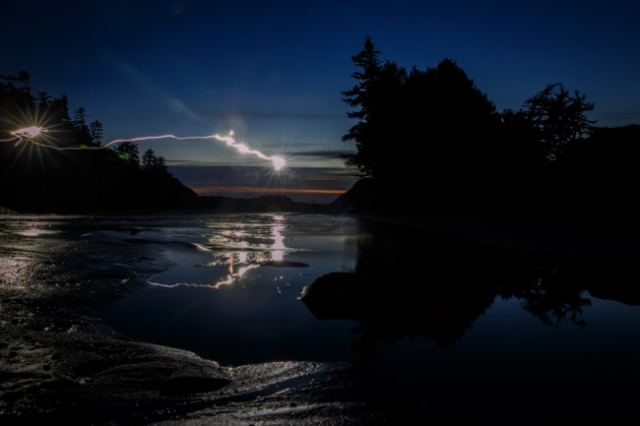 Food & Activities
Once you have settled in, it has been a long day of travelling so; you probably need a later lunch. This brings me to one of my favourite things to do in Tofino – eating!!! Here is the food schedule I would suggest.
Day 1 – Tofino (afternoon)
After checking in you will be hungry I would go to the small area that houses some of the best food you will find- anywhere.
I would grab a seared tuna taco at Tacofino, and wash that down with one of their delicious chocolate diablo cookies and a coffee from the Tofitian nearby.
From here I would travel into Tofino – That's right you haven't been into town yet. This is when decision time starts.
Are you going to go surfing? If so, you will need to rent gear or take lessons. Remember it is cheaper to rent gear for three days than a day at a time so if you feel like you want to go hardcore make sure you get your gear as rental shops can get busy.
Tofino is not very big so you can park and generally spend a couple of hours exploring the town and shops before heading back to your hotel. If you brought some wine great, if not you can hit the local liquor store, or cold beer and wine store in town (open seven days a week & late)
After chillaxing at your hotel for a while and enjoying the beach (rain or shine) for a few hours, you will probably be ready for some dinner. Remember that if you have been drinking, then there are few local taxis, so call one and schedule a pickup time or remember you are on foot. I generally stay at Ocean Village Resort so I will have a few drinks and then make the short walk up to the junction and grab Salmon Burgers at Wildside Grill for dinner.
Spend the rest of the night enjoying a fire on the beach or cards/ games in the room.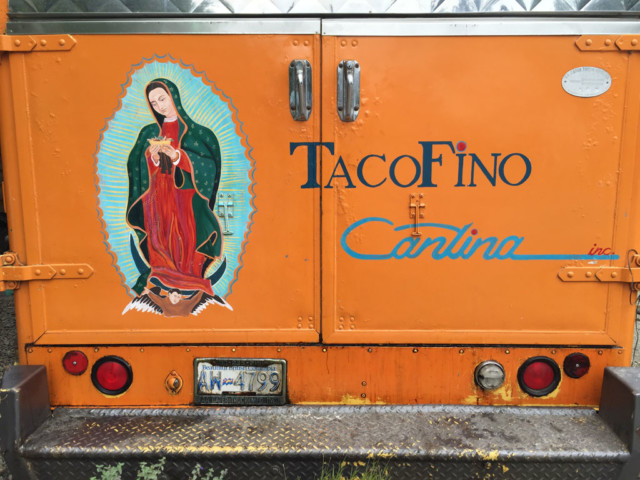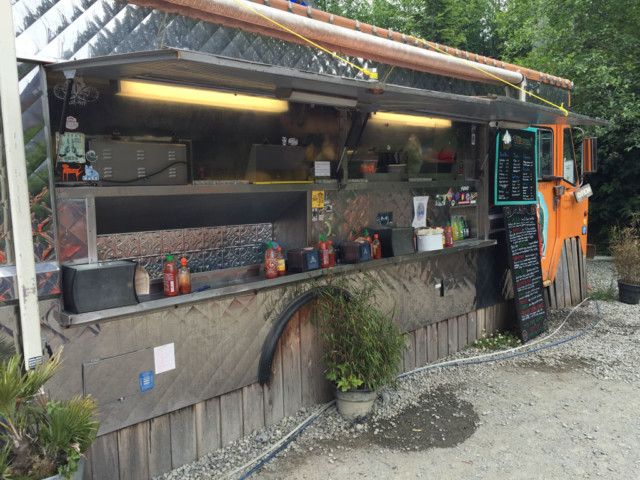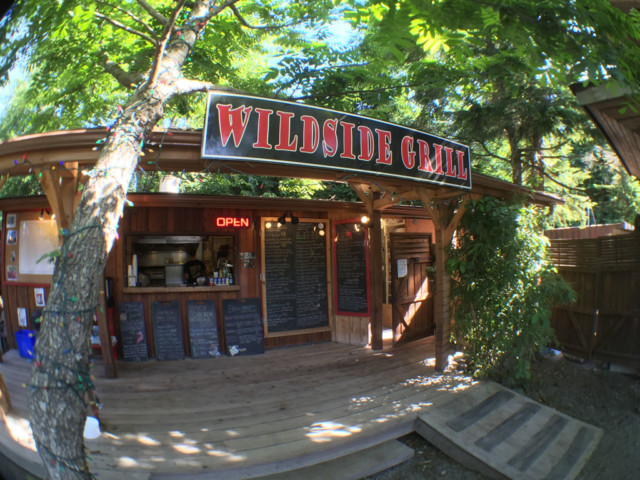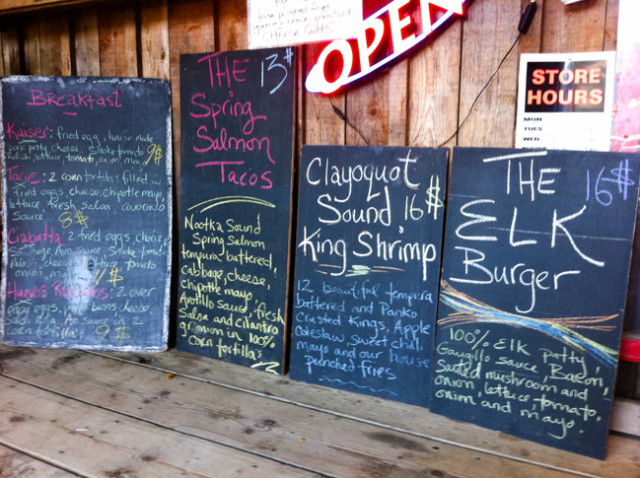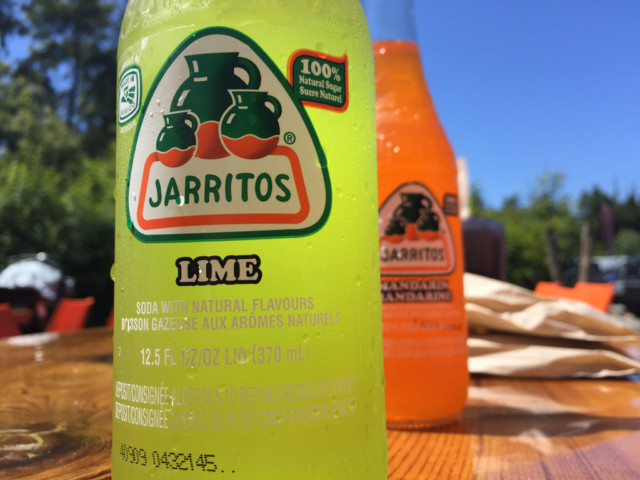 Surfing in Tofino
Tofino is one of the worlds top cold water surfing destinations with six top quality surfing beaches within 25-30 minutes from town. Each beach faces a slightly different direction, so no matter which way the swells are coming in, there's always somewhere to ride. If you are looking for some Tofino Surfing, there are many places in town to rent or learn to surf.
http://www.pacificsurfschool.com
http://www.tofinosurfadventures.ca
Day 2
I generally start the day by taking a nice walk on the beach and then walking up the road to the Tofitian Coffee house. I love their coffee, and if you time it right, the muffin man comes daily between 9-930am. The Tofitian and Beaches Grocery next door both have different but tasty muffins. If muffins aren't your thing, then try pulled pork huevos rancheros at the Wildside grill next door.
After breakfast, if you're not surfing or taking surf lessons with surf sister, I would pack a lunch and do one of two of my favourite hikes.
Secret Beach – This runs from Radar Hill from the lower parking lot. There is a heavily rooted path that heads directly west. This is not advised if there has been a lot of rain. The hike will take you about 1 – 1.5 hrs to get down due to the roots, but at the bottom, it opens up to a sand dune and fantastic water views. Spend a few hours here and enjoy your lunch.
Bomber Hike – The tourism center won't tell you where it is, and the government parks centre won't tell you either… but for a good reason. The trail isn't maintained, and that bomber plane is looking pretty sketchy these days. People have gotten lost on this trail and search, and rescue has been called in to get people out of there. But if you're down for some adventure, have the proper gear/food/water/cellphone/navigational tools and prepare for mud… you should be fine. You will have to ask a local which highway marker it starts at. It is down from the road that takes you up to Radar Hill.
After the hike, you probably should visit Tofino Brewing Company and sample some of their local beers.
Head back to the hotel to chillax for a few hours and then head to Radar Hill to watch the sunset. This is not the secret beach hike, but the main path you see in the parking lot there. It takes you up to some of the best views anywhere.
After I would go to the Wolf in the Fog for a later dinner– Recently voted the best new restaurant in Canada. The menu is diverse, and the drinks divine. I would encourage you to try a few of their share plate themes.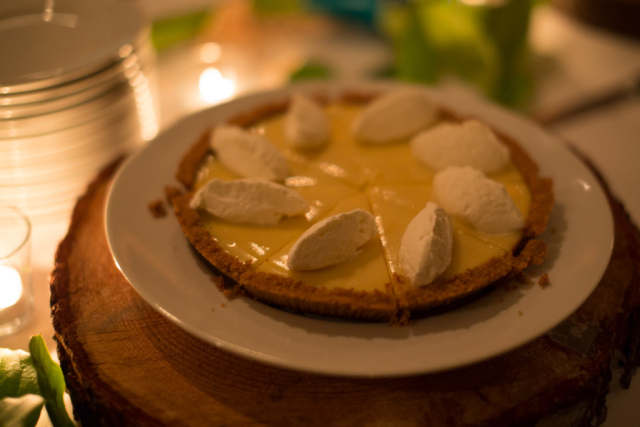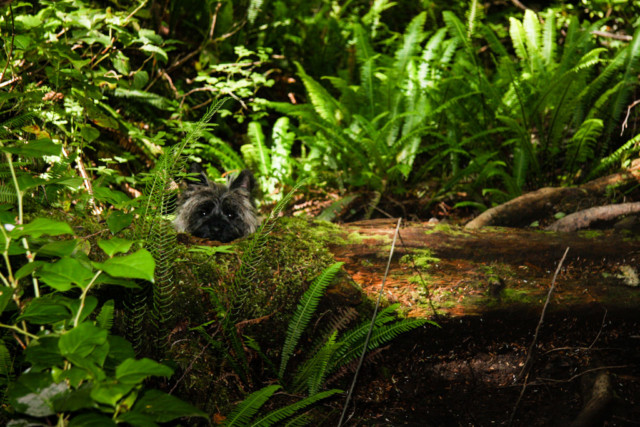 Day 3
Head into town and have breakfast at the Common Loaf Bakeshop. I like the veggie burrito here. Make sure you wander upstairs when you're there and try to get a table so you can see the views of Tofino.
From here I would drive to Tonquin Park and go for a leisurely walk on the beach. This is best if you can time it with the low tide as the beach will open up and you will get to explore more of this beautiful park.
I would then head back to my hotel beach and chillax, read, or if you are feeling energetic you could do another hike listed in day 2 or do some whale watching, bear watching, or take the kayaking tour over to Meares Island. Also during the summer, there is a farmers market in town on Saturdays that you can check out.
If you don't get too adventurous and stay local, I would head over to Shelter for some lunch and grab a burger and onion rings. They are pretty good!
Spend the afternoon relaxing again – you earned it – I would check out Chesterman Beach (walk the whole beach) read, relax… The next day hit the waves again a Or try paddle boarding. Most beaches/hotels will rent these to you.
For Dinner, I would head to Schooners– For me, there is only one way to go. Order the Halibut Bowden Bay and ask for Nami Naori Oysters as an appetizer. The menu has many delicious options, but this is one of my favourites for sure! I would not stay for dessert. Instead, I would head over to Sobo nearby and have one of the best margaritas and key lime pie you will ever taste. I had this key lime pie at my wedding instead of a wedding cake!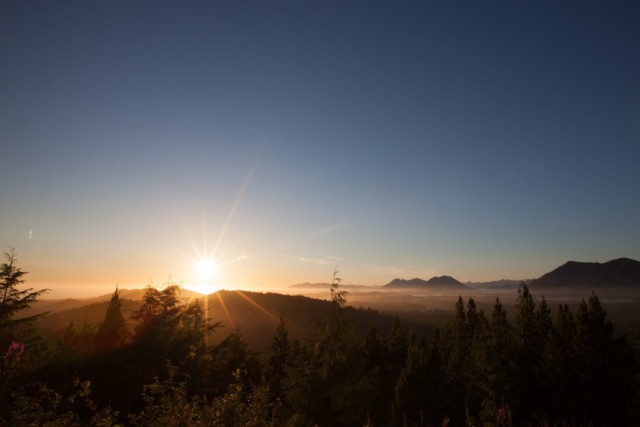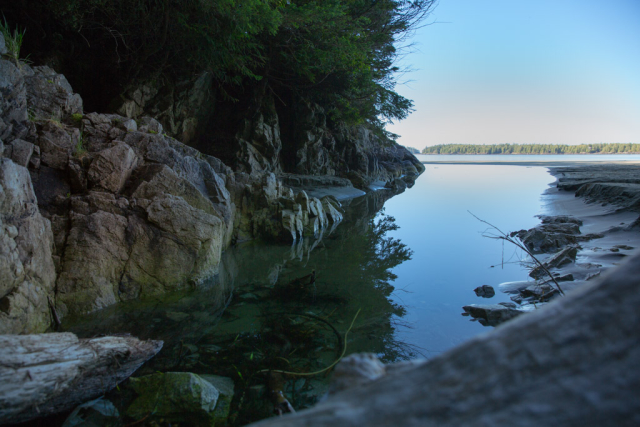 Day 4
Repeat Day 2 or Day 3 morning.
Leave Tofino in the morning and head to Ucluelet.
Do one of the sections of the Wild Pacific Trail hike in Ucluelet (the shorter one takes about 2 hrs) – The coastline here is very rugged and the sea at times can look menacing. It is an interesting contrast to the sandy shorelines in Tofino.
Grab some lunch at a local eatery and head back to the highway to take you back to Nanaimo
Travelling back from Tofino
Stop off at Kennedy Lake – It is about 50km from Tofino. Many people will spend the day here if it is windy or cooler in Tofino. Also, many people who surf or have wetsuits will spend a couple of hours here on the return trip to rinse their gear in the fresh water. – This is time permitting.
Rather than head straight to Nanaimo, continue in and spend a few hours at Qualicum Beach. Qualicum Beach is a short drive from the highway and is often warmer than the west coast due to its proximity and shelter from the wind. OR You could head into Parksville and play a little mini golf.
Grab dinner in either Parksville or Qualicum beach, or wait and have some Ferry grub on the way home.
From here your way back to the Ferry Terminal – Make sure you are there 30-60 minutes before departure or they will give away your reservation.